Buprenorphine treatment for opioid use disorder (OUD) is effective, can be taken at home, and—especially when prescribed via telehealth—provides a convenient, consistent, and effective treatment method for patients.
Despite its proven success and ease of use, the medication is sometimes difficult to access from pharmacies across the country. According to recent research conducted and published by my team, 3,058 of 5,283 pharmacies called (57.9%) reported stock of buprenorphine.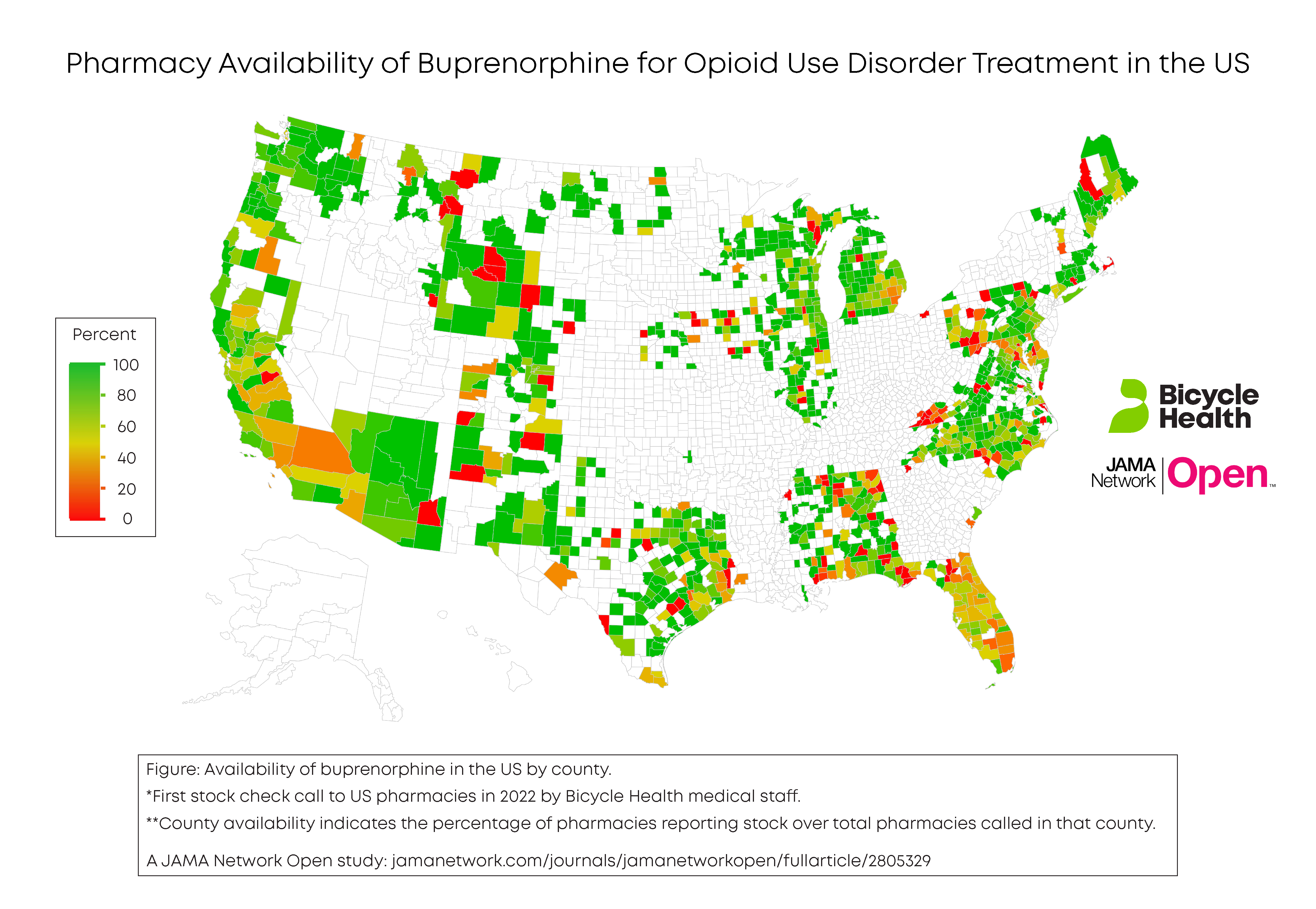 The reasoning behind this statistic is complex: Policy and social considerations have made it difficult for pharmacies to stock buprenorphine, or disincentivize pharmacies to carry it even when it would otherwise be possible. As advocates and physicians supporting improved OUD treatment access, there are strategies we can take to make buprenorphine accessibility more widespread for patients now.

Though it's disappointing that over 40% of pharmacies surveyed failed to report stock of buprenorphine, fortunately nearly 60% of pharmacies do supply the medication. For patients who may not have access at their nearest or preferred pharmacy, they may be able to visit another nearby pharmacy that stocks the medication—but it's imperative they know which one.
In the absence of clear guidance from regulators, it falls on clinicians and support staff to prioritize helping patients access buprenorphine seamlessly. For example, Bicycle Health created a "Pharmacy Finder Tool" that our staff use to connect patients with reliable pharmacies with a history of having a patient's medication available.
The importance of such tracking tools can't be understated, particularly for patients in recovery. Prior to the introduction of the Pharmacy Finder by Bicycle Health, 10% of patients faced delays in filling their prescriptions within a day, and 40% had to try multiple pharmacies. With the tool in place, only 1% now face a wait beyond 24 hours, and a mere 25% need to approach more than one pharmacy. While this is a notable improvement, there's still work to be done: Clinicians require more support.

In a study examining buprenorphine access in pharmacies, research at Oregon State University found that approximately 20% of pharmacies elected not to dispense buprenorphine—even if they were able to stock the medication.
Part of this hesitation is likely due to stigma against people with OUD. But stigma is based on misconceptions or lack of understanding. After decades of special treatment of buprenorphine (such as the recently removed "X-waiver" and Drug Enforcement Administration (DEA) controlled substance reporting requirements), pharmacists may be conditioned to believe that the medicine is especially harmful. Furthermore, there is a long-standing societal stigma against people suffering from OUD.
Community outreach programs have the ability to educate people, including pharmacists, about the realities of living with OUD. For example, a program in Washington state, the UW Center for Community-Engaged Drug Education, Epidemiology and Research offers in-person treatment in addition to educational awareness efforts. These types of community hubs help dispel myths about MOUD and foster normalcy.
In addition to physicians, mental health counselors and addiction medicine specialists, pharmacists have a critical role to play in OUD treatment and they should be included in discussions of treatment and treatment access. Facilitating deeper inclusion of pharmacists in conferences and research about OUD treatment may also shift thinking and combat stigma.

Both actual and perceived barriers have discouraged pharmacies from stocking buprenorphine and offering it to their patients. Despite lack of clarity on specific restrictions and where they stem from, some pharmacists believe there is a limit on the volume of controlled substances pharmacies are allowed to carry or that drug distributors are allowed to supply. This perceived restriction is not true: the DEA has not issued any caps on buprenorphine pharmacy supply.
Though the limitations stem from distributors, the supply bottleneck is caused by confusing policies that lead to perceived barriers. To increase pharmacy availability, we need to ensure that pharmaceutical manufacturers and distributors deliver adequate supplies instead of adding additional unwarranted barriers.
In addition to policy restrictions, physicians, pharmacists, and distributors struggle with financial restrictions when it comes to insurance reimbursement for buprenorphine. One study from the University of Kentucky found that only half of buprenorphine-prescribing physicians accepted Medicaid for visits related to the medication. But physicians were more likely to accept Medicaid if they believed reimbursement was both likely and adequate. Avoiding financial burdens on prescribers and pharmacists is possible if insurance plans, through their pharmacy benefit manager (PBM) programs, ensure adequate reimbursement for dispensed buprenorphine.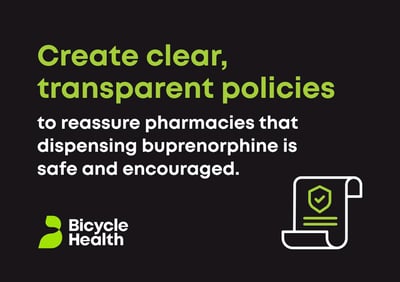 Federal policies around buprenorphine dispensing are complex and rapidly changing, especially when it comes to prescriptions issued via telehealth. Even for pharmacies able to dispense buprenorphine, fear of scrutiny or a potential misstep limit access.
Buprenorphine is a Schedule III controlled substance. It's subject to strict state and federal regulations and can put pharmacies under a more watchful eye from the DEA if they dispense it. Buprenorphine's classification also means that pharmacists must follow the same corresponding responsibility guidelines they would use to issue opioids like morphine and oxycodone.
On top of this, policies have fluctuated during the COVID-19 pandemic. The Ryan Haight Act, a mandate that requires an in-person examination for controlled substance prescriptions issued via telemedicine, was partially suspended during the pandemic to increase access. But the back and forth around this policy has, in some cases, led to increased restrictions. For example, Walmart returned to pre-Covid policies to avoid navigating shifts in policy, even though telehealth prescription of buprenorphine is currently completely legal.
As it stands, we are still awaiting a final ruling on the proposed telehealth flexibility changes from the DEA. This ruling, set to be announced in November, will shape how we are able to treat OUD moving forward, and will significantly affect the lives of tens of thousands of patients treated for OUD in the telehealth setting.
As we await this decision, advocacy efforts will be critical for the DEA to understand the importance of increased flexibility. This includes listening sessions from the DEA where physicians, patients, and anyone with a strong passion for OUD treatment access can share their views with the administration. The upcoming listening sessions are happening on September 12 and September 13, and those interested can apply to give an in-person or video teleconference presentation at https://apps.deadiversion.usdoj.gov/ListeningSession.
There is always work to be done to increase buprenorphine access, but a concerted effort at the pharmacy level will most certainly help save many lives. Even though the COVID-19 public health emergency has officially ended, the public health emergency of opioid overdose remains. Let's remove whatever barriers are present at the pharmacy level to enable patients to access life-saving treatment.