Major payor partnerships, a successful Series B, and state expansions helped the company expand its virtual care model to treat thousands of new patients in 2022
In the past year, the amazing team at Bicycle Health has established a new paradigm in the way America treats people with opioid use disorder (OUD).
Where there was hopelessness that this problem was too big and untreatable, we have created hope that this crisis can be defeated in the following ways: We've secured another $50 million in investment to help us continue our growth, we've expanded the number of states we're in to 29; our clinical model has been studied and our outcomes have been published in two separate peer-reviewed medical journals, and -- based on the number of awards we've won -- the healthcare community has taken notice.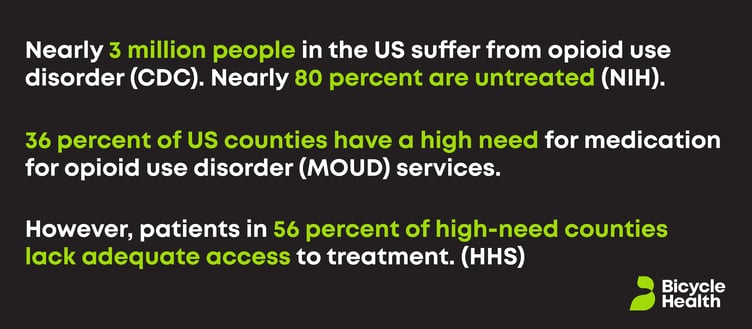 In this article, I highlight some of the incredible accomplishments of the dedicated people who work here at Bicycle Health and I extend a warm invitation for talented clinicians to join us.
Across the United States, millions of people continue to face geographic, financial, logistical, and stigma-related barriers to receive the mental health care they need.
Approximately 150 million Americans live in areas where there is a dire shortage of mental health professionals. For those living with OUD, the challenges are even greater.
More than3 million Americans struggle with OUD and most lack access to the medications and treatment they need to begin recovery. Since 2020, Bicycle Health has ramped up exponentially to address the opioid epidemic – providing critical services to those who need it most.
Together, our clinical staff and our technology platform are creating a clinical model that is changing the national healthcare landscape by expanding access to care that delivers meaningful, quality outcomes for people living with OUD.
I'm incredibly proud that Bicycle Health has become the leading telehealth provider of integrated medical and behavioral health care for those living with OUD. Every day we are changing and saving lives. Throughout 2022 we heard countless inspirational stories from our patients. Here are just a few of their words:
"I've been to countless meetings from 12-step to Smart Recovery and overall the recovery coaches at Bicycle truly care about the people and I think that's what makes the difference."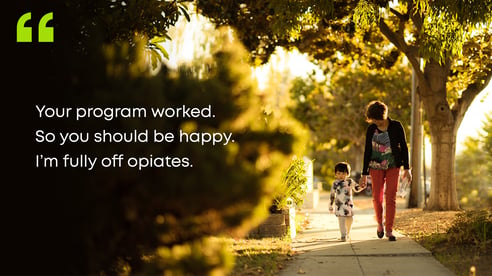 "I would like to thank everyone who has helped me at your company and especially my practitioner. I appreciate the thoughtfulness and compassion that she has shown me throughout my time with your company.'
Overall, this year was a pivotal year for gaining momentum.
We saw growth in every aspect of our business – from major payor partnerships, to a successful Series B funding round, to an expanded team of top talent that helped us deliver high-quality, effective, and compassionate addiction care to millions of new patients.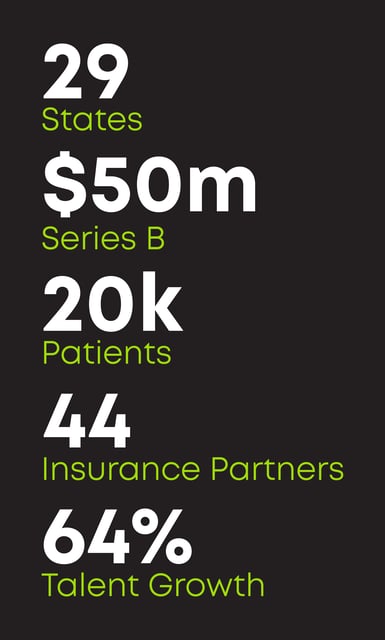 Geography: We expanded our ability to treat patients in 29 new states, with plans to operate in 35 states by mid 2023.
Funding: We closed a $50 million Series B funding round, bringing the company's total amount raised to $83 million.
Patients: We achieved a major patient acquisition milestone by exceeding 20,000 enrollments.
Insurance partnerships: We extended our contracted and appointed partnerships to 44 insurance companies at the state and national level, highlighted by a contract with Cigna Evernorth in July.
Talent: We grew the Bicycle Health team by 64%, including two senior executive hires, CTO Chris Norris and CCO Justin Guadagno.
Products: Our innovative product team rolled out an in-app Urine Drug Screen workflow, which allows for real-time screening. We also launched our peer-support group program – which has served as a virtual lifeline for many of our patients in recovery.
A word about team dedication and compassion.
Simply put, Bicycle Health would not be what it is today if not for the caring and dedicated team carrying out our mission. Two examples in 2022 exemplify our steadfast focus on patient care.
Alabama Airdrop:

In the days before Alabama's new Ryan Haight law took effect in July, it put lives at risk. Forced to stop accepting new patients in that state, our physicians scrambled as 400 of our 550 established patients in that state were unable to access in-person care. To avert tragedy, our addiction specialists flew to Birmingham to see patients in-person in order to comply with the law. They saw 235 patients in a week, but that still left 165 likely facing a poor outcome.


Hurricane Ian: Our Florida response was a cross-team collaborative effort that came together quickly from the provider, community support services, financial, product, and leadership teams. There were also clinical teams from outside of the Southeast region that stepped in to help our patients. All of the teams put in extra hours during that week, with the community support services team fielding patient questions and calling pharmacies, providers triaging their patients, and the financial team working with us to create workflows for our patients. This reflected the true commitment, teamwork, and tenacity of our staff.
Recognition: Among several accolades we received, Bicycle Health was named one of TIME Magazine's Most Innovative Companies for 2022.
Bicycle Health was also selected as a 2022 The Stevie®️ Award winner for being a Great Employer and was selected as a quarterfinalist for the UCSF Health Hub Digital Health awards.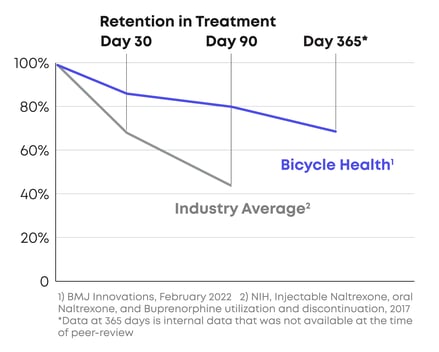 Research: Our care model was also peer-reviewed and validated in two published studies: BMJ Innovations and the Journal of Addiction Medicine.
The key findings from the BMJ study were around our patient retention rates. When the research was done, 80 percent of our insured patients were staying in recovery past the 90 day mark.
I still look at our patient retention rates every day, because this is a critical way to measure how well we're taking care of our patients, and we're retaining 70 percent of those patients past the 12-month mark.
What's amazing about those retention rates is that they make it easy for us to model out the impact we're having on people's lives.
Based on what we see internally, we estimate that we've prevented approximately 400 overdoses and reduced OUD symptoms in over 10,000 patients, which would result in a reduction in healthcare costs of over $1.5 billion in 2022.
Looking ahead: Next year we expect to stay on our growth path by continuing to add patients, partners, and staff.
Our primary focus next year is to build the nation's finest medical group for specialists who want to practice addiction medicine. We believe our peer-reviewed clinical model, combined with our technology platform and our insurance partnerships make us the best place to work for specialists committed to defeating the nation's opioid crisis.
I look forward to working together to stay on track and advancing our mission in the New Year.
With gratitude,
Ankit Gupta